Eureka BB2 – General Pump Construction
General Pump Construction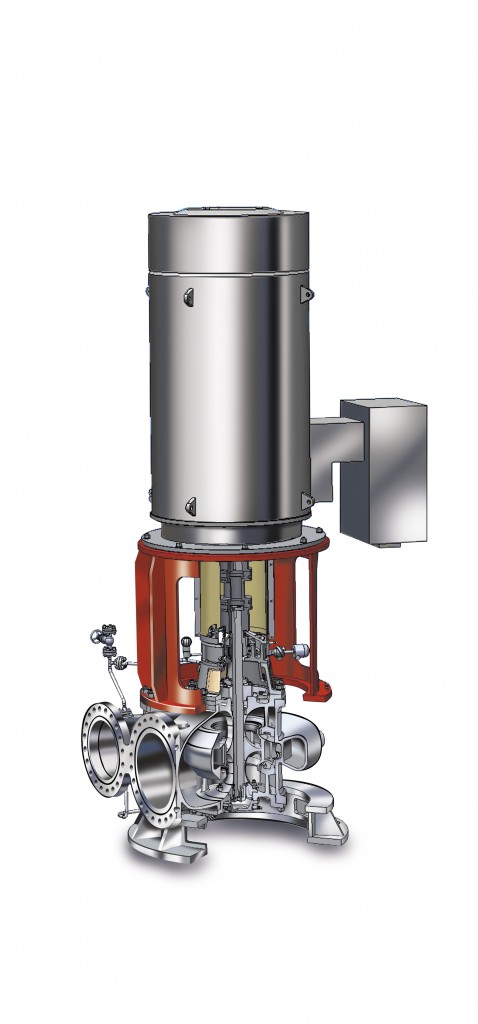 Case and cover
The pump is radially split with double volute design. The drive end cover contains the seal chamber while the non drive end cover contains the silicon carbide bearing.
Suction and discharge nozzles For the vertical version, the nozzles are arranged as either in-line, or side by side. For the horizontal version, the nozzles are arranged as top top or side side.

Seal chamber and shaft sleeve 
The EUREKA BB2 pumps have only one seal chamber, as the non drive shaft end does not penetrate the cover. The seal chamber is extra deep to provide ample space for installation of a dual mechanical seal. The shaft sleeves are keyed to prevent rotation and are axially secured between impeller and impeller lock nut.

Impeller and wear rings
The impeller is double suction and designed with a large eye area to ensure low NPsHr. The impeller wear rings are mounted on the impeller with a slight shrink fit and pinned in position. The case wear rings and cover wear rings are inserted in the case and cover with a slight interference fit and secured with a hollow head set screw.

Bearings
The pump is equipped with oil-lubricated anti-friction bearings to take thrust and radial forces at the drive end. at the nondrive end the shaft is equipped with a silicon carbide journal bearing, flushed and lubricated by the pumped medium.

Coupling
Each pump is furnished with a spacer type flexible coupling and designed for easy mounting/dismounting. The bearing and mechanical seal may be changed at site without dismounting the electric motor.

Baseplate
The baseplate on horizontal pumps is constructed from fabricated steel with a drain pan extended under the driver.
Eureka BB2 – General Pump Construction