Eureka OH4 – General Pump Construction
General Pump Construction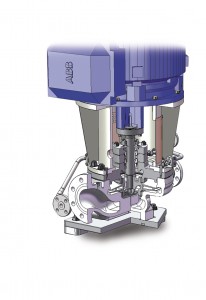 Case and cover
The pump is radially split with the casing and nozzles integrally casted. The cover contains the seal chamber and is designed to carry the motor pedestal.
Flanges
Suction and discharge nozzles are furnished with 300 lbs aNsI B16.5 rF flanges as standard.
Shaft sleeve, coupling and mechanical seals
The shaft sleeve is keyed to prevent rotation and is axially secured between the impeller and a recess on the shaft. The pump is furnished with a rigid coupling and it is designed to use either a single or dual seal. The seal shaft sleeve is secured to the shaft by a shrink disc.
Impeller and wear rings
The impeller is single suction and axially balanced. It is designed with a large eye area to ensure low NPsH requirements, and thus reduce the possibility of cavitation.
The impeller wear rings are mounted on the impeller with a slight shrink fit and pinned in position. The case wear ring and cover wear ring are inserted in the case and cover with a slight interference fit and secured with a hollow head set screw.
Bearings
There is no bearing in the pump. The bearings in the motor are carrying the pump rotor.
Electric motor
The driver is resting on the cover by a pedestal. The Eureka OH4 pumps can be delivered with both dry and wet electric motors.