API 610 Ballast Pump w/Eureka OH4 & BB2 Pump – General Pump Construction Eureka BB2
General Pump Construction BB2
Eureka BB2 pump Arrangement
The EUREKA BB2 pump is a single stage, double suction, vertical in-line or side-side configuration in compliance with the latest edition of API 610 and are well suited for layout restricted areas. It is designed for continuous duty and is particularly suitable for offshore applications, pumping fluids over a wide range of temperatures and pressures. The rotor, motor and cover can be removed from the pump casing as a complete unit without disturbing the piping. In general the pump materials comply with the grades listed in API610 and NORSOK M630/M650. The standard materials are 25% Cr super duplex (API610 D2) for seawater applications.
Case and cover
The pump is radial split with the casing and nozzles integrally casted. The cover contains the seal chamber and is designed to carry the motor.
Flanges
Suction and discharge nozzles are furnished with 300 lbs Ansi B16.5 RF flanges as standard.
Hydraulic range
Capacity: 700-3000 m3/h
Differential pressure: 2 – 20 bar
Design pressure: 40 bar
Temperature: -46°c – 250°c
Shaft and Mechanical seals
The pump impeller is axially fitted to an extension of the motor shaft and it is designed to use a single mechanical seal according to API 610 or API682?
Impeller and wear rings
The impeller is double suction and axially balanced. It is designed with a large eye area to ensure low NPSH requirements, and thus reduce the possibility of cavitations. The impeller wear rings are mounted on the impeller with a slight shrink fit and pinned in position. The case wear ring and cover wear ring are inserted in the case and cover with a slight interference fit and secured with a hollow head set screw.
Bearings
The pump only includes a radial bearing on the pump NDE. This is seawater lubricated sleeve bearing.
There is no thrust bearing in the pump. The thrust bearing in the motor is carrying the pump rotor.
Electric motor
The driver is resting on the cover. The Eureka BB2 pumps are for this application delivered with a wet electric motor that can allow full flooding of the pump room and still be in full operation.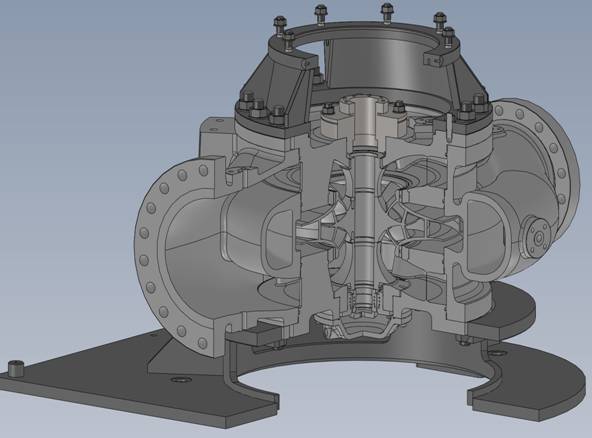 Ballast Pump w/small & large
Ballast w/Eureka small and large Configuration: