[biginfopane textcolor="#ffffff" title="Emergency Breathing System – Mining"][/biginfopane]
Eureka EBS™ systems provide a shelter for people, by releasing a predetermined amount of fresh air. In case of a toxic gas release H2S or release of an Explosive gas such as Ch4, the fresh air flow can be started both manually and automatically. The people are safe within the shelter in place (SIP) until either the gas leak is stopped, or the rescue team has arrived.
The system is designed to meet the demands of DIRECTIVE 94/9/EC (Exp) ATEX.
The system can be delivered with Atex approved equipment for both Zone 1 and 2
An operating room equipped with an EBS™ system allows the engineers to handle the emergency from the operating room. If required, the EBS™ system can also supply air for personal respirators or a "Cascade" system.
The EBS™ systems can be designed to suit every need, from very long fresh air delivery duration to a large air flow suitable for a large amount of people.
The Needed amount of air flow is dependent on the amount of people within the temporary refuge (TR). We can design a system that delivers a variable air flow. Only the needed amount of air is delivered. This way the stored air volume will last longer.
We can offer complete SIP, as a containerized solutions. As of today we have delivered over 40 EBS™ systems worldwide.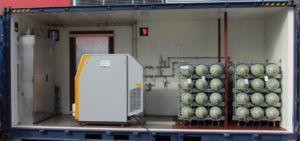 Contact information:
Petter Torbal
Phone: +47 920 59 747
E-mail: petter.torbal@eureka.no